Maltese cat villages - 9th September 2020
Independence gardens close to Balluta bay
About a year ago we picked up a middle aged Japanese guest from the port at about midnight coming from Sicily. He was not in a good mood as he said he didn't like the Sicilian attitude. It was the first time I met an angry Japanese in my life. The first thing he said next morning at breakfast was. 'I have 2 questions. Where is the closest supermarket that sells cat food and where is the cat village?' The cat village in Spinola road St Julians is actually on Google maps! It is not some big village where lots of cats hang out but it is a makeshift corner where a woman called Rosa put some kennels and soft toys and feeds cats every day. However, Rosa is one of many, Maltese women, men and foreigners living in Malta, who feed cats. There is quite a large number of stray cats on the Maltese islands. Cats can easily survive the winters here as the temperature hardly ever goes below 8 degrees Celsius at night. During the day it is about 14 degrees. In summer the temperature soars up to an average of 33 degrees and for a few days it could go up to 37 and higher – that is when we have a heatwave! So cats can survive quite well in this kind of climate. Another place in St Julians/Sliema where cat colonies thrive as people feed them on a regular basis is Independence gardens close to Balluta bay. As our homestay (Giljana) is only a few minutes away from Balluta bay, I went to see what cats do on a hot afternoon in the peak of summer. There I found cats sleeping on and under benches. They had food which they hardly ate and they had water, but most of all they had shade and small cat boxes where they could sleep. People sat down next to the cats and some stroked them. There was an aura of slumber and peace while a few metres away others were swimming or sunbathing on the rocks below the garden.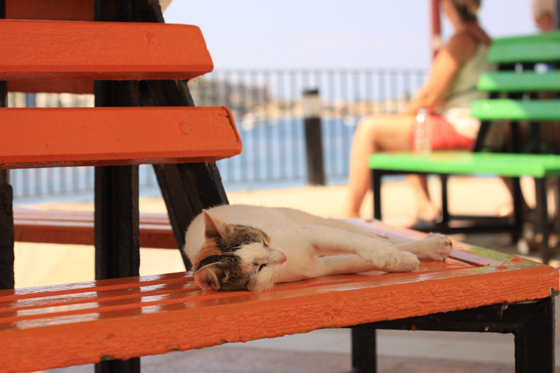 The less popular beaches - 29th August 2020
Munxar Point between St Thomas bay and Xrobb L-Ghagin
St Thomas bay is packed to the brim with locals in the peak of summer so l do not recommend it. Moreover parts of it is like a shanty town with small rooms built haphazardly around parts of the bay. However further to the right of the bay towards Xrobb L-ghagin is a truly beautful spot with white towering cliffs and beautiful sea. lt is good for snorkelling or if you just want to be away from everyone else. St Thomas Bay is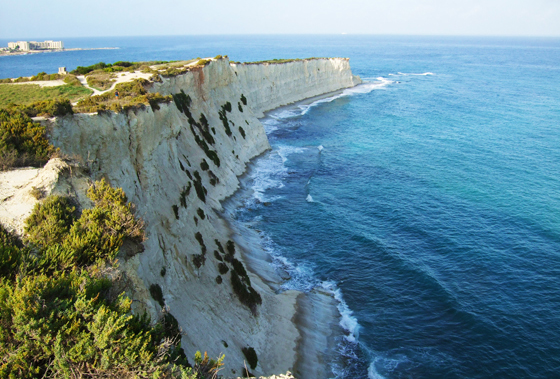 Xrobb L-Ghagin
This beach is very close to St Peter's Pool which everyone seems to know about and everyone goes to. So St Peter's Pool is quite crowded in the peak of summer. However Xrobb L-Ghagin is less popular more beautful and less crowded. lt is just that bit harder to get to as you need transport or you can try to get a ride from the fishermen at MarsaXlokk just as you can get a boat ride from MarsaXlokk to St Peter's Pool.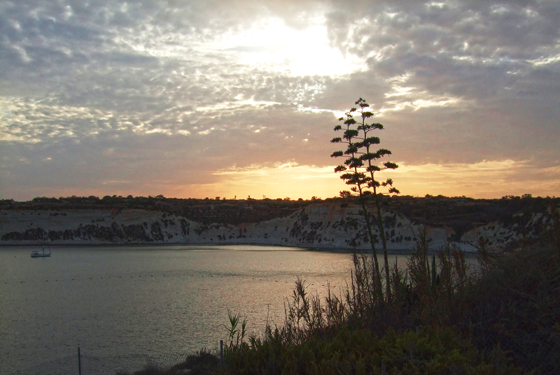 Begging n Malta - 26th August 2020
Begging in Malta is illegal
Every person with an id card in Malta receives social benfits from the state when in need so no one is allowed to beg. This doesn't mean that you will never see anyone begging in the streets or never be stopped by someone asking for money as you walk by. However it is quite rare. About 2 weeks ago l was stopped by a young man who told me that he was homeless and wanted 1 euro because he had just come out of jail. l had heard the same story twice before and l told him so. However as l continued walking l thought, what if it was true? what if he really was homeless and had absolutely nothing? So l turned back to find him. l caught up with him as he was tryng to get some money from another walker. l asked him what his story was. He started repeating the same narrative which l had heard from 2 other youths. l looked at him carefully as he was talking. He was wearng nice, clean clothes. l told him that l wanted to buy him breakfast as if he was homeless and he was really thin, he needed to eat. He said he did not want food but he wanted money. Unfortunately it was then obvious to me that he wanted money for his drug addiction and l wasn't going to help him with that. So we parted. Something l learned when l was travelling in lndia was that there were professional beggars and real beggars. A professional beggar did not like receiving food but a real beggar really appreciated food.
Swimming in St Julians/Sliema and Paceville - 8th August 2020
Swimming in St Julians and Sliema
There is a very small sandy beach just a few minutes away from Giljana homestay. This small beach is in Balluta Bay. lt is ideal to swim there if you want to swim somewhere closeby. Moreover when you want to eat something you are spoilt for choice as there are lots of cafes and restaurants in Balluta Bay.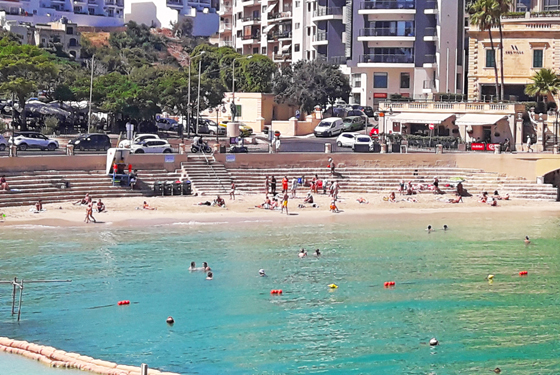 There is also a large swimming pool in Balluta Bay where you can get a day membership which costs €10 on weekdays and €12 on weekends. This price includes a sunbed.
lf you prefer the open sea and like snorkelling then you could walk towards Sliema and swim along the long rocky beach. Here the visibility for snorkelling is very good and there are ladders all along the beach so you can go into and come out of the water easily. When you go swimming there you might wonder why there are square pools dug in the rocks by the sea. These were dug in the beginning of the 20th century. Maltese families used to put poles by the small pools and cover the pool with a sheet so women could enter the water without being seen! How things have changed since then!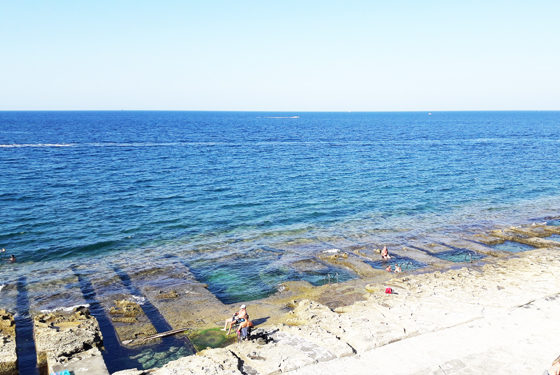 Modes of Transport in Malta and Gozo - 31st July 2020
Buses in Malta and Gozo
ln Malta the bus system is good only if you know the ins and outs of how the system works.
You can buy a bus card at the airport for €21 which you can use continously in Malta and Gozo for a week. Alternatively you can buy a card for €15 which entitles you to 12 bus rides. You can also pay the bus driver €2 for each bus ride. This ticket is valid for 2 hours. You should also wear a mask when you get on the bus. An important thing to keep in mind when using the bus during peak hours (9am to 11.30am leavng St Julians and 5pm to 7pm returning to St Julians) is that you have to take the bus at the bus termius. For example, if you are staying in St Julians Balluta bay close to where Giljana homestay is located, then you have to cross the road to Olivier bus stop (sea side) and take any bus going to Sliema 202, 222, 225, 212, 13, 14, or 16. Stop at Ferries, cross the road to Marks and Spencer and wait for the bus there. By the time the bus passes from St Julians it will be full and won't stop at the other bus stops! 222 takes you to Ghadira Bay and Cirkewwa Gozo terminal. 225 - Golden bay and Ghajn Tuffieha. 212 - St Paul's bay and Bugibba. 202 - Mdina and Rabat. 13, 14 and 16 go to Valletta. When you want to go to Valletta you have to cross the road and take the bus stop on the sea side. When you want to go to the north of the island you have to stay at the bus stop on the side of the buildings. When returning from, for example Ghadira bay, your best option is to cross the road, take any bus going to Cirkewwa and then take the 222 from there. This is because when it leaves Cirkewwa the bus is full of passengers and it won't stop at the Ghadira bus stops! l use a lot of buses myself and this is what l always do. Moreover, try not to sit in the front rows of the bus as these are reserved for the elderly.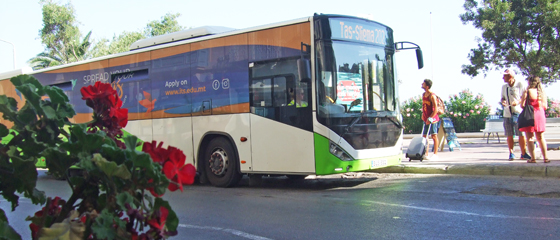 Hiring a scooter/bicycle/car
Scooters are probably the easiest way to get around. lt is easy to find a parking space and it is easy to dodge the cars when there is traffic. One very important thing to keep in mind when riding a scooter in Malta, is that you overtake NOT from the left side but from the middle of the road if there are 2 lanes and from the right if there is only one lane. The drivers won't see you coming if you overtake from the left!!! Giljana homestay offer a parking space inside our carpark if you rent a scooter. When renting a scooter it is much easier to go to all the secluded beaches that the bus doesn't go to and that are a bit hard to get to by car as sometimes the paths are really narrow.
Bicycles are only for the daring and super fit. This is because we only have a few bicycle lanes in Malta and because Malta and Gozo are made up of hills. Only the seaside streets are flat, the rest of the island is mostly hilly. Having said that we have bicycles at Giljana which we use, and we will be willing to offer them to you.
Cars are a good option if you are a family or you have a very young child. You can find good deals on the net, if you book online or we can recommend a car hire to you. We only have one carpark available, so the sooner you ask for it the better for you. This carpark is free of charge. Remember that we drive on the left, which some drivers find daunting at first however you will soon get used to it. Always park in the white spaces only, never in the green or blue. Always check what the sign posts between the parking spaces indicate as sometimes you have to leave after an hour or two. When this is the case, put the paper clock which you will find in your car, on the dash board and set it at the time you park as the warden will want to see it. You can also park in the open air carparks. There is normally a carpark attendant who you have to give about one euro, you will then be able to stay in this car park the whole day if you want.
Sandy beaches in Malta and Gozo - 29th July 2020
Ghadira Bay in Mellieha Malta
Ghadira Bay is the largest sandy beach in Malta. Large means the most popular and therefore busiest. So it is not a good idea to go on the weekend or public holidays.
An interestng feature found at this beach is that first the sea is shallow then it gets a bit deeper then it gets shallow again and then it gets deep. There are lots of kiosks to buy food from and there are even some smart looking ones or restaurants where you can have a lovely lunch at the water's edge. These are found on the far ends of the bay, both on the left and right side. There is also a new 'fun park' in the middle of the bay. So this beach is really ideal for familes.
One very important point about buses when going to this beach, is that if you are staying in St Julians (where Giljana homestay is located), then you have to go by bus 222. As this is a widely used bus, it is not so easy to get on it during peak hours. So when going to Ghadira get a bus to Sliema, stop close to Mark's and Spencer and get the 222 from there. When returning from Ghadira to St Julians cross the road from the beach and get any bus to Cirkewwa and from Cirkewwa get the 222. This is very important as the 222 will already be full by the time it gets to Ghadira and it will not stop.
Below: photo of ghadira bay on Sunday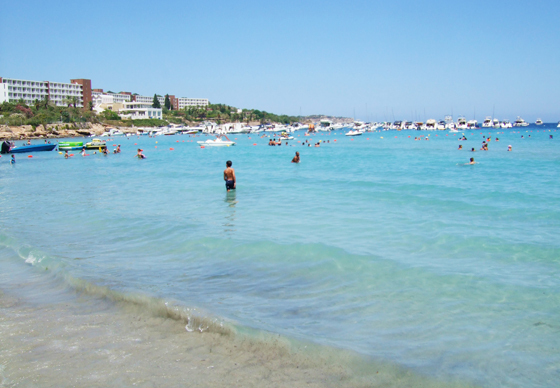 Sandy beaches in Malta and Gozo - 24th July 2020
Ghajn Tuffeha (Riviera)
This beach is located on the north west of the island. lt has been left in its natural state. So it is one of the most popular beaches. The drawback is that there are lots of steps to get to it. lt is best to go early morning or late afternoon to watch the sunset. There is a lovely bar/restaurant where you can sip some wine as you watch the sun vanishing into the horizon. lf you keep walking you will reach a more secluded part of the bay. This part is normally referred to the nudist area. Although nudism is illegal the authortes close an eye especally to tourists. lf you walk along the paths over the hill, you will see another small bay. lt s dffcult to get to it unless you slide down the clay slopes or find a path down or canoe your way there. So there are usually hardly any people in this small bay. Further in is another beach called Gnejna which is frequented by locals. On the right side of Ghajn Tuffeha is another sandy beach called Golden Bay. There is a big hotel there. So although Golden Bay is bigger than Ghajn Tuffeha it has been commercalised and has lost its charm.
Below: small sandy bay on the left of Ghajn Tuffieha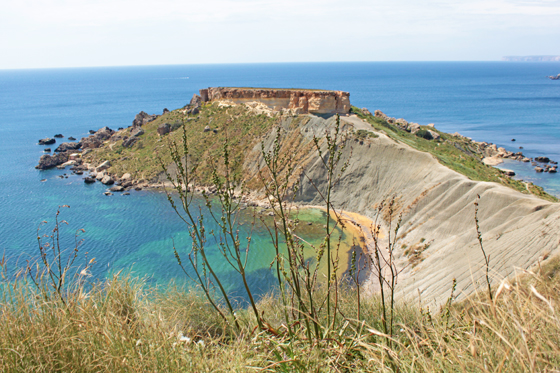 Going Green - 20th May 2020
One of the things close to our heart is the environment. During our partial shutdown we have had time to think and learn how to make our own detergents and soaps. We now make soaps from natural oils such as olive oil, castor oil, coconut oil etc. The colours we use to colour the soaps are also natural - turmeric, spirulina, cocoa etc. Samples of these soaps can now be found in the guest rooms for our guests to use and enjoy. We are also now cleaning with natural detergents made from lemon juice, vinager, herbs and essential oils which actually clean better than the detergents bought from the store!
Natural soaps made by Josie
sold at €3.50 to €5 per approximately 100 grams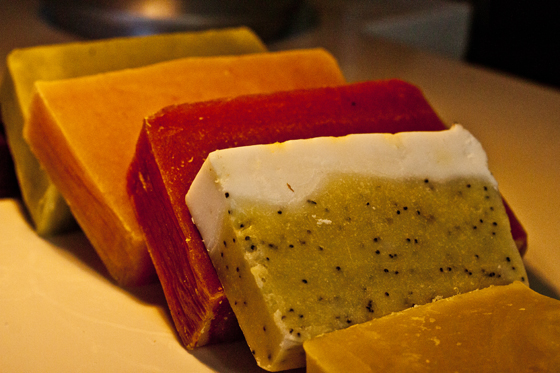 Turning a new page
While we are still figuring out what hit us globally and how badly we have been hit during this pandemic, maybe many of us who have spent time under partial shut down/lock down, had time to think and try to understand what really matters in our lives.
First of all a word on the pandemic - covid 19 in Malta. Malta closed its airport around mid March. ln a few days schools, restaurants, cafes, hairdressers etc were shut and the streets were deserted. Upto today we have 5 corona virus deaths and around 73 people infected. The total people infected were less than 500. Most had such mild symthoms that they didn't even go to hospital. The 5 who died were between 76 to 96 years old. That is our pandemic update in a nutshell upto today 9th May 2020.

A few words about us
Mark and l, Josie, decided to start running our homestay over 6 years ago. Mark is a graphic designer by profession and Josie a teacher of English. We have an accommodation which can host 3 couples or 6 friends. Mark is the artist and the creator of our themed bedrooms and Josie is the practical person with down-to-earth ideas. We are a good team as we complement each other. Thankfully we are both calm and always come up with a solution without too much fuss. We love travelling and we love meeting people from all over the world. Everyone has a story and everyone has something interestng to share. When we can't travel, we still meet people from all over the world. That is why we do what we do and changed our jobs from teaching and graphic design to hosting.